My Blog
Posts for tag: dentures
By Lafond & Tambini, DMD
May 08, 2019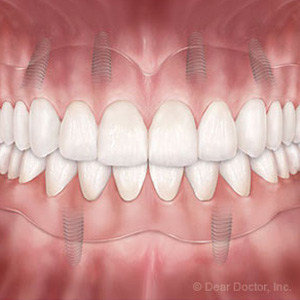 Even with modern prevention and treatment advances, losing teeth in later life is still a sad but common part of human experience. Just as generations have before, many today rely on dentures to regain their lost dental function and smile.
But although effective, dentures have their weaknesses. The most serious: they can't prevent jawbone deterioration, a common problem associated with tooth loss.
Bone health depends on chewing forces applied to the teeth to stimulate replacement growth for older bone cells. When teeth are gone, so is this stimulation. Dentures can't replicate the stimulus and may even accelerate bone loss because they can irritate the bone under the gums as they rest upon them for support.
But there's a recent advance in denture technology that may help slow or even stop potential bone loss. The advance incorporates implants with dentures to create two hybrid alternatives that may be more secure and healthier for the supporting bone.
The first is known as an overdenture, a removable appliance similar to a traditional denture. But instead of deriving its support from the gums alone, the overdenture attaches to three to four implants (or only two, if on the lower jaw) that have been permanently set into the jawbone. This not only increases stability, but the implants made of bone-friendly titanium attract and foster increased bone growth around them. This can help slow or even stop the cycle of bone loss with missing teeth.
The second type is a fixed denture. In this version, four to six implants are implanted around the jaw arch. The denture is then secured in place to these implants with screws. It's a little more secure than the overdenture, but it's also more expensive and requires good quality bone at the implant sites.
If you've already experienced significant bone loss you may first need bone grafting to build up the implant sites for these options, or choose traditional dentures instead. But if you're a good candidate for an implant-supported denture, you may find it provides better support and less risk of continuing bone loss than traditional dentures.
If you would like more information on implant-supported dental restorations, please contact us or schedule an appointment for a consultation. You can also learn more about this topic by reading the Dear Doctor magazine article "Overdentures & Fixed Dentures."
By Lafond & Tambini, DMD
January 19, 2016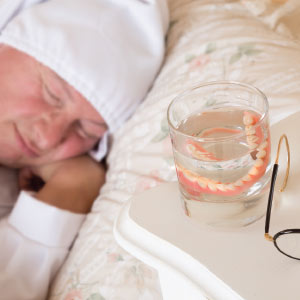 Maybe you don't like to be without teeth — ever. Or maybe you get a little forgetful sometimes. Whatever the reason, if you're wearing your dentures to bed at night, we have one message for you: Please stop!
Sleeping in dentures can have serious health consequences. A recent study published in the Journal of Dental Research found that nursing home residents who wore their dentures to sleep were 2.3 times more likely to be hospitalized or even die of pneumonia as those who did not sleep in dentures. But how can wearing dentures at night more than double your chances of getting a lung infection?
As the study noted, pneumonia-causing bacteria can readily be moved from the mouth to the lungs simply by breathing. And dentures that are not removed at night can become breeding grounds for all kind of bacteria and fungi (such as yeast). That's what makes them potentially dangerous.
Another condition often seen in people who wear upper dentures continually is called denture stomatitis, which is characterized by a red, inflamed palate (roof of the mouth) that has been infected with yeast. The yeast microorganisms can also infect cracked corners of the mouth, a condition known as angular cheilitis. Moreover, it has also been shown that people who sleep in dentures have higher blood levels of a protein called interleukin 6, which indicates that the body is fighting an infection. Need we go on?
Wearing dentures is supposed to improve your quality of life, not reduce it. So promote good health by taking your dentures out at night, and sticking to a good daily oral hygiene routine:
Remove and rinse your dentures after every meal.
Brush your dentures at least once a day with a soft toothbrush or denture brush and dish soap, liquid antibacterial soap, or denture cleanser (but don't use toothpaste — it is too abrasive).
Store your dentures in water or a solution made for this purpose.
Brush your gums and tongue every day with a soft toothbrush (not the same one you clean your dentures with).
Rinse your dentures in clean water before you put them back in your mouth.
If you would like any more information on dentures and oral hygiene, please contact us or schedule an appointment for a consultation.