My Blog
Posts for: May, 2019
By Lafond & Tambini, DMD
May 18, 2019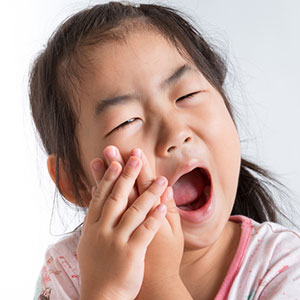 "Mom, my tooth hurts" isn't something you look forward to hearing your child say. But tooth pain is as common as other childhood ailments, so you may have to face it. Here are a few simple steps to make it easier.
First, ask your child where in the mouth it hurts and, if they can, tell you how long it's been hurting. Children's memories aren't always accurate, but you can still get a general idea that you can communicate with your dentist if you take them in.
Next, look in their mouth for anything out of the ordinary: gum swelling or bleeding, or dark spots on the teeth indicative of tooth decay. Look also for hard food particles like popcorn kernels caught between the teeth, which could be causing the pain. Gently floss between the teeth (even if you can't see anything) to remove any caught particles.
You'll also want to help ease their pain. You can apply an ice pack against the painful side of the jaw. Don't place ice directly on the skin, but use a container or cloth alternately against the jaw for a minute or so, and then away for a minute. You can also give them a dose of mild pain reliever like ibuprofen or acetaminophen appropriate for their age and weight—but never rub aspirin or other pain relievers on the gums, which tend to be acidic and can burn the skin.
Finally, you'll need to decide if you need to see a dentist and how soon. It might not be necessary with situations like the trapped food particles, but most of the time it's wise to have your dentist perform an examination for an accurate diagnosis and appropriate treatment. As to how soon, try to see the dentist immediately if the pain has continued from one day to the next or has kept your child up overnight. Otherwise, book an appointment for as soon as the dentist advises, even if the pain subsides.
A toothache at any age is never pleasant, but especially for children. Knowing these steps will help ease their discomfort and get them the relief and treatment they need.
If you would like more information on dental care for children, please contact us or schedule an appointment for a consultation. You can also learn more about this topic by reading the Dear Doctor magazine article "A Child's Toothache: Have a Dental Exam to Figure out the Real Cause."
By Lafond & Tambini, DMD
May 08, 2019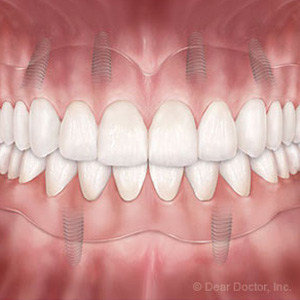 Even with modern prevention and treatment advances, losing teeth in later life is still a sad but common part of human experience. Just as generations have before, many today rely on dentures to regain their lost dental function and smile.
But although effective, dentures have their weaknesses. The most serious: they can't prevent jawbone deterioration, a common problem associated with tooth loss.
Bone health depends on chewing forces applied to the teeth to stimulate replacement growth for older bone cells. When teeth are gone, so is this stimulation. Dentures can't replicate the stimulus and may even accelerate bone loss because they can irritate the bone under the gums as they rest upon them for support.
But there's a recent advance in denture technology that may help slow or even stop potential bone loss. The advance incorporates implants with dentures to create two hybrid alternatives that may be more secure and healthier for the supporting bone.
The first is known as an overdenture, a removable appliance similar to a traditional denture. But instead of deriving its support from the gums alone, the overdenture attaches to three to four implants (or only two, if on the lower jaw) that have been permanently set into the jawbone. This not only increases stability, but the implants made of bone-friendly titanium attract and foster increased bone growth around them. This can help slow or even stop the cycle of bone loss with missing teeth.
The second type is a fixed denture. In this version, four to six implants are implanted around the jaw arch. The denture is then secured in place to these implants with screws. It's a little more secure than the overdenture, but it's also more expensive and requires good quality bone at the implant sites.
If you've already experienced significant bone loss you may first need bone grafting to build up the implant sites for these options, or choose traditional dentures instead. But if you're a good candidate for an implant-supported denture, you may find it provides better support and less risk of continuing bone loss than traditional dentures.
If you would like more information on implant-supported dental restorations, please contact us or schedule an appointment for a consultation. You can also learn more about this topic by reading the Dear Doctor magazine article "Overdentures & Fixed Dentures."