My Blog
Posts for: September, 2018
By Lafond & Tambini, DMD
September 20, 2018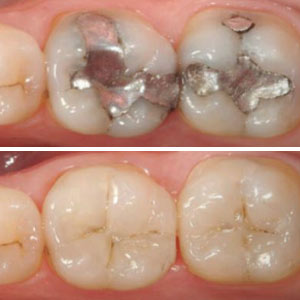 For over a hundred years dental amalgam — a combination of silver, mercury, tin and other metals — has been an effective filling material for teeth damaged by decay. But it has one major drawback — its metallic appearance stands out in stark contrast to the natural color of teeth.
As an alternative, composite resin fillings can match the color, shape and texture of natural teeth. These materials and the techniques used to bond them are proving just as effective as and more aesthetically pleasing than dental amalgam.
Fillings help protect and preserve a decayed tooth. By first removing decayed tooth structure through drilling, the resulting void is filled with durable material that strengthens the tooth and provides it protection from further decay.
The ultimate goal for restoration is to return the tooth to as near normal form and function as possible. Dental amalgam serves well in terms of function, providing the tooth strength in the face of the daily biting forces it encounters. In contrast, composite resins excel in appearance, but haven't always matched the durability of amalgam. They're material construction has improved over time, though, as well as the techniques used to bond them to teeth.
Most of these bonding techniques incorporate layering. The first step is to seal the dentin (the porous, living tissue just below the enamel); we then build up the composite material layer by layer within the tooth using special bonding adhesive and curing lights. In some cases where a large volume of tooth structure must be replaced, the restoration is first formed on the tooth and then removed for curing before being cemented into the tooth or a separate restoration is formed by a dental lab.
The end result is a tooth which both looks and functions like a fully intact tooth. Though care must be taken not to subject composite resin restorations to undue forces (no cracking open nutshells, for example), your new filling should continue to serve you and look great for a long time to come.
If you would like more information on metal-free restorations, please contact us or schedule an appointment for a consultation. You can also learn more about this topic by reading the Dear Doctor magazine article "The Natural Beauty of Tooth Colored Fillings."
By Lafond & Tambini, DMD
September 10, 2018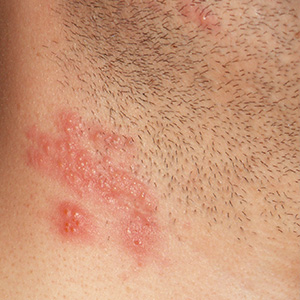 Shingles is a painful viral infection that could potentially recur in sufferers for years. It causes painful skin rashes, general nerve pain, fever and fatigue. In extreme cases, it can cause blindness if the eyes become infected. And because it's highly contagious, it could affect your dental treatment.
Formally known as herpes zoster, shingles is a recurrent form of chicken pox. If you contracted chicken pox in childhood, the shingles virus could lay dormant for several years. In fact, most people who contract shingles are over 50.
Because it acutely affects the nerves around the skin, the disease's most common symptom is a belted or striped rash pattern that often appears on one side of the body and frequently on the head, neck or face. While the severity of symptoms may vary among patients, shingles can be a significant health threat to certain people, especially pregnant women, cancer patients or individuals with compromised immune systems.
In its early stages, the shingles virus can easily pass from person to person, either by direct contact with the rash or by airborne secretions that others can inhale. Because it's highly contagious, even a routine teeth cleaning could potentially spread the virus to dental staff or other patients. Because of the significant health threat it potentially poses to some people, your dental provider may decline to treat you if you're showing symptoms of the disease.
To stay ahead of this, let your dentist know you're experiencing a shingles episode if you have an upcoming dental appointment, in which case you may need to reschedule. In the meantime, you should seek medical attention from your physician who may prescribe antiviral medication. Starting it within 3 days of a shingles outbreak can significantly reduce your pain and discomfort as well as its contagiousness.
And if you're over sixty or at risk for shingles, consider getting the shingles vaccine. This readily available vaccine has proven effective in preventing the disease and could help you avoid the pain and disruption this viral infection can bring to your life.
If you would like more information on dental treatment with shingles, please contact us or schedule an appointment for a consultation.